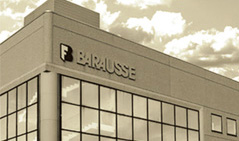 Representation of interests of BARAUSSE S.P.A. in the consumer rights protection suit
Representation of Customer`s interests in Vasileostrovsky District Court of Saint Petersburg in a consumer rights protection suit: BARAUSSE LTD is a distributor of Barausse S.P.A. products in the Russian Federation; Barausse LTD delivered its products to its business partner Dveri ORS LLC who further failed to fulfill their obligations to sell these products to consumer. Consumer filed a claim to recover the outstanding amount under the sale contract, a forfeit, a penalty under Consumer Rights Law against Dveri ORS LLC and BARAUSSE LTD jointly and severally.
Legal Business Solution's lawyers took comprehensive efforts to ensure successful protection of Barausse S.P.A.'s interests: formation of ratio decidendi, preparation of procedural documents (statement of defense, written pleadings, motions). This project was of essential importance both for the customer's business (preventing from losing a significant amount of money), and for the legal system in general (preventing from abuse of rights by the consumer).
Project period: July – November 2016
PROJECT TEAM